Just write as normal paper & pen

Put your pen on Cradle to Sync Data

Hemodialysis Automation using Digital Pen
Innovative Technology is proud to announce the "1st World wide" Automated Hemodialysis Solution using Digital Pen & Smart Paper. Using the technology the Care-giver can record the patients' log sheets by the bedside for real-time data capturing.
During the patient encounter the doctor /& Nurse simply uses the digital pen to write on a smart form

Pen strokes are captured by a miniature camera hidden in the digital pen

By performing what is considered to be a natural straight forward writing process, data is captured by the digital pen, recording the exact stroke shape and location, while time stamping those pen strokes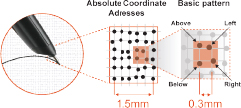 As the digital pen is put in its docking station, data will be transferred automatically from the pen to a remote server, through a USB server device, without the need for a computer beside the pen

Data uploaded in a structured format to the digital pen server, processed and then sent to the data repository

From which our business intelligence software would start to build statistical data graphical in the electronic health record of the patient. Monthly & quarterly reports would be auto generated from the Data captured by the Digital Pen & Paper.